Your Visit and Spa Etiquette
---
Scheduling an Appointment
To ensure your preferred time and service is available, we recommend to book in advance. All spa treatments and packages will require a 50% non refundable booking fee to secure the booking.
Spa Arrival Time
Please arrive 15 minutes prior to your reservation to relax and prepare for your experience. The Signature Spa will provide luxurious towels, robes and slippers and any amenities required for use during your visit.
Health Conditions
Kindly advise us of any health conditions, allergies or injuries, which could affect your choice of treatment when making your spa reservation.
Cancellation Policy
Any appointment cancelled within 24 hours of the scheduled appointment, your non refundable booking fee will be transferred to your rescheduled appointment, or added as credit to your account. Any appointments cancelled with less than 24 hours notice, will incur a charge of 50% of your total booking. This will be taken from your non refundable booking fee. Any appointment that is not cancelled and is unattended, will incur 100% of the cost of the total treatment .
Appointments
Please note that late arrival to your appointment will result in a reduction of treatment time. This will not be discounted. 24 hours' notice is required if you wish to shorten your treatment time please The full cost of the original treatment will be charged if notice has not been given.
Homecare
To continue your spa experience at home, all products used within your treatments are available at The Signature Spa reception, where one of our team would be delighted to advise you on the most suitable products for your needs.
---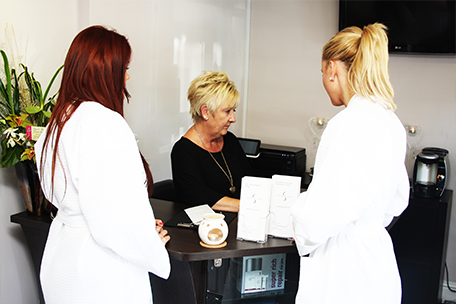 Non Refundable Booking Fees
A non refundable booking fee of 50% of the total treatment cost will be required at the time of booking to secure the appointment. If your appointment is cancelled within 24 hours of your appointment time, 100% of your non refundable booking fee will be transferred to your rescheduled booking. If you do not reschedule your appointment, 100% of the non refundable booking fee will be added as credit to your account.
Gift Vouchers
Are available for all treatments and services and are an ideal present for someone special. Gift vouchers are non-refundable and must be presented at time of treatment or purchase.
Children's Policy
We are delighted to offer a small variety of treatments to children under the age of 16 when accompanied by an adult for the duration of the respective treatment. Please contact Spa reception for details of the treatments and packages that are available and suitable for our younger guests.
Mobile Phone Policy
The Signature Spa environment is one of tranquillity and relaxation. We kindly ask our clients to respect all spa guests' right to privacy and serenity and maintain conversations at a considerate volume in all treatment areas.
Mobile phones are not permitted in the treatment rooms and must be kept silent or turned off when you are the spa.
Rewarding Our Clients' Loyalty
---
THIS SCHEME IS CURRENTLY ON HOLD DUE TO THE 2020/2021 PANDEMIC CLOSURES - The Signature Spa appreciates building long term relationships with all of our clients, so that we can get to know each one personally and understand their individual needs across their various skincare, body and beauty treatments.
This relationship makes for highly rewarding, sustainable results.
Here is a reminder to clients of how our exclusive loyalty card programme works.
Collect a loyalty card stamp for every £25 you spend
When the loyalty card is full, receive a £50 voucher
Loyalty Cards must be redeemed in full (we cannot add any unused credit to your account!) Loyalty Cards can be redeemed against full priced spa treatments (with the exception of Courses, Laser Treatments, CACI Synergy, Guinot Cellular Energy, Crystal Clear, Demapen & pH formula as these fall under our Anti Ageing Clinic treatments) Loyalty Cards cannot be redeemed against any of our special offers or already discounted treatments Loyalty Cards cannot be redeemed in the months of June, July, August, November and December Loyalty stamps are not given on treatments paid for with a loyalty card voucher Loyalty stamps are not given on Gift Voucher purchases